Masterclass 2018
Dit jaar worden alle masterclasses gegeven in het engels!
Masterclass 1
Shilton Almeida
Paul John Distillery
Paul John Single Malts are the master creations of John Distilleries Ltd (JDL). Established in 1992, the company is driven by the vision of its Chairman, Mr Paul P. John. His passion for creating liquor brands of international repute led him to persevere, innovate and break the mould.
JDL has a diverse portfolio, including its flagship brand Original Choice Whisky, which sells over 10 million cases a year. The company also has many a reputed brand of Brandy (Mônt Castlé, Roulette), Whisky (Original Choice, Black Pelican) and Wine (Big Banyan, Goana's). Each brand has won much appreciation. The endeavour to provide the best quality is evident in every product. Today, JDL has joined the ranks of India's leading spirits companies.
Masterclass 2
Peter Mackay
Morrison & Mackay
We are Independent Scotch Whisky Merchants and Compounders (Producers) of the Finest Scottish Liqueurs. Based in the Heart of Perthshire and family owned and managed, we strive to provide the best that Scotland can offer. Three generations of experience in Scotch Whisky creates an unrivaled passion for our national drink. Our own bottling and blending facility and a dedicated team create a quality of product and service that is unsurpassed. The values of family ownership create strong relationships with our customers, large or small, wherever they are in the world.
Masterclass 3
Ian McWilliam
Glenfarclas Distillery
The theme of the masterclass will be 'Decades of Glenfarclas'.
Mr. McWilliam joined Glenfarclas in January 1991 as Assistant Head Warehouseman. Since then he has worked in all areas of the Glenfarclas production spending around 10 years between the Warehouse, Mashing and Distillation. In January 2001 he was promoted to Assistant Production Manager working alongside the distillery Production Manager overseeing all areas of the Glenfarclas production and maturation process. In May 2004 he moved to the Glenfarclas Sales & Marketing team and with a comprehensive knowledge and experience gained during his time in making Glenfarclas Single Highland Malt Whisky he hopes to carry along with him into his presentations.
He is now looking after more than 30 countries which keeps him pretty busy. Most of his time is spent working in the sales office at Glenfarclas Distillery although he does travel extensively throughout the year visiting my distributors and customers, attending Whisky Festivals and hosting Whisky Dinners, Tasting events, Staff Training and business meetings.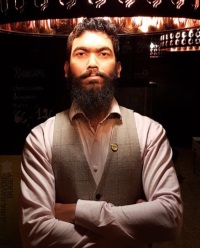 Shilton Almeida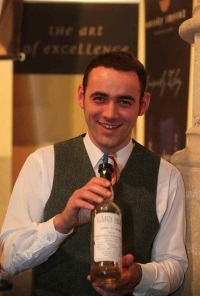 Peter Mackay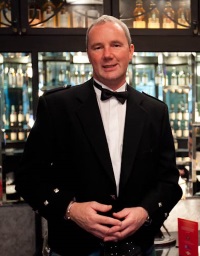 Ian McWilliam